Anjali Exim is committed to contributing to the sustainable development of both the company and environment through its strategic recycling service, innovative & efficient renewable technology, setting benchmark in renewable energy. Our high-performance and high-technology Pyrolysis Plant promises efficient recycling of waste tyres as a raw material meanwhile being modest in energy consumption, saving of time and moderate process temperature. With global warming and rise in green house gases through burning and disposing of rubber, therefore it has now become very important to recycle the waste tyres and convert it in energy and usable materials in an environment friendly manner.
Features and attributes of the plant:
Ensuring 100% effective recycling of used tyre
Organic or environment-friendly material is used in the process
Pre, amid and post process; no water & air pollution, sound and soil pollution
Produce economically utilitarian products from used tyres, which have excellent market value and rising demand
The most cost-efficient and high-performance used-up tyre recycling technology in the world.
Cheap availability of used-up tyre and easy to find in abundance.
Each recycling process of a ton of tyres can conserve about 10 tons of Carbon Dioxide that is one of the important green house gases.
The process is compitable to all rubber based materials.
The process of Pyrolysis can be completed between 4 and 12 hours, depending on the size and the number of tyres. While recycling the process the various vacuum expectation values are applied in pre-set temperatures and in different phases.
Different gases are acquired and the condensed gas is stowed in tanks.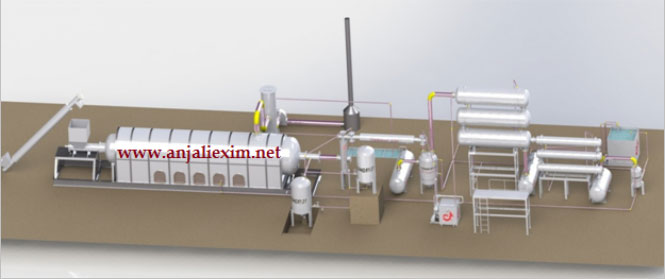 Pyrolysis Process:
This is a batch process system and its performance and features of the products vary depending on parameters including temperature.

The used-up tyres are supplied to the reactor vessel and heated up under rising temperature and pressure

The pyrolysis process effects the molecular re-structure of the rubber, consequently furnace oil in gaseous form is generated with other gases.

The vaporized gas goes through the heat exchanges, wherein the furnace oil is transformed into liquid form.

While the process, thermal black and steel are also produced.

The heat exchanger requires coolant water, as a liquidifying medium and this water is re-distributed through process.

These systems can efficiently work 24*7/365.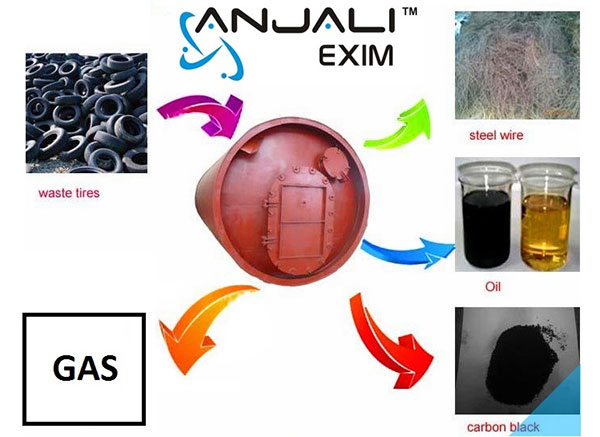 The Perfect Solution (Pyrolysis Process):
Pyrolysis is the decomposing process of organic materials at the greater temperature under oxygen-free environment that generates gases, thermal black, and oil. Highly effective industrial process pyrolysis deals with worn out rubber as well as industrial rubber wastage.

FUEL OIL (45% to 50%)
The main product produced by recycling is the fuel oil that is widely used for industrial and commercial purposes. The oil has 45% to 50% of the amount of recycled scrap tyres.
CARBON BLACK (30% to 35%)
Carbon Black is the 2nd main product recycled by Pyrolysis. The amount of recycled carbon black is 30% to 35% (depending on the type of tyres) of the total amount of scrap tyres recycled in the system. Carbon black is used as raw material or main ingredient in many industries and the chemical structure of carbon black strengthens, lengthens the endurance, and improves the coloring features of the materials.

Carbon black produced by Pyrolysis process (CBP) is more economical compared to carbon black produced primarily from petroleum and is more price-efficient to be used as an ingredient in the industries listed;
Electric cable jacketing - Conveyor band
Carrier Bands - Hose and doormat
Black nylon bag, Plastic pipes - Rubber additive
Automotive spare parts - Black colorant in rubber materials
Industrial rubber products - Fire fighting
STEEL WIRE (10% to 15%)
Tyres contain steel wires and the amount ranges from 10% to 15% of the total tyre wastage. All of the steel present in the tyre can be detached after the Pyrolysis recycling process is completed. Valuable steel wires are pressed and sold to steel and scrap dealers.
GAS (5% to 8%)
on-Condensable gases arise during the pyrolysis process. There are some advantages such as….. It has higher calorific value as compared to natural gas.
It can be replaced where natural gas and propane are stored.
The high energy gas may be utilized as a source of energy for the Pyrolysis process.
The amount of gas generated in the system is 5% to 8% of the total amount of recycled tyres and considering the 10 ton scrap tyre/day recycling capacity,
The facility generates 500 - 800 m³/day gas, which has an enormous energy potential when evaluated.
Project Planning & Implementation (For the 10 ton/day capacity):
| | |
| --- | --- |
| Land Requirement : | 1500 Sq. Meters |
| Construction Shed : | 40Ft * 80 Ft = 3200 Sq. Feet |
| Water Required : | 1000 liters per day |
| Power Requirement : | 40 hp |
| | Manager-2 |
| Man Power Planning : | Technical-1 |
| | Worker-6 |
Other Arrangements to be made by Client
Storage tank of oil (Available locally), Civil Work, Local Worker & labour, Hydro crane, Plumber, Electrician, Gus cutter, Welder.
Terms & Condition:
| | |
| --- | --- |
| Delivery Time : | Chinese plant 30 days from your order confirmation |
| Installation Period : | 15-20 days |
| Warranty Period : | 1 Year |
| After Sales Service : | 1 Years Free Service after then AMC Based… |
| Installation, Training : | Included in price. |